Seniors in Motion & Tai Chi
Seniors in Motion
COVID Update (January 2022) - To ensure the health and safety of our participants, we will continue to offer all classes virtually via Zoom. Please contact the church if you need access info to these classes.
Be a part of an exercise program that targets more than your just your physical well-being! The Seniors In Motion (SIM) program is more than an exercise class – it focuses on the spiritual, social, physical and educational needs of mature members of the La Crosse community. First Pres offers SIM classes with the goal of helping mature individuals remain more active and independent. We employ experienced, board-certified Physical Therapists and Physical Therapy Assistants to ensure the highest level of quality.
We offer 2 levels of classes each designed meet a different level of physical ability, the fitness class for physically-independent individuals seeking physical fitness and the basic class for those in need of support for everyday movements. Classes are offered in 11-week sessions. (See below for our 2022 schedule)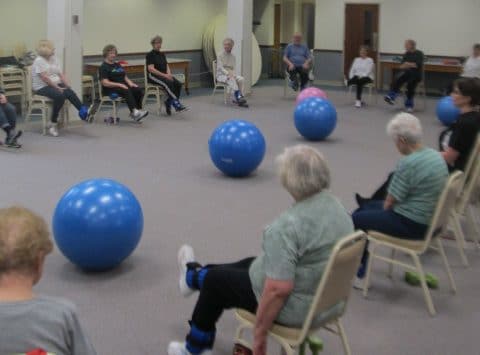 Tai Chi
Come improve your balance, reduce your fall risk, increase mindfulness and relaxation, and improve your strength. This class accommodates those that need extra support while standing and can be practiced while seated. The movements have been modified to make them easier to learn but still retain the many benefits of the traditional Tai Chi form.
SIM & Tai Chi Schedule
NOTE: All classes via zoom until further notice; Class space is limited. Permission of the instructor is required.
Fitness SIM Class: Tuesdays & Thursdays @ 8:30-9:30am
Basic SIM Class: Tuesdays & Thursday @  10:00-11:00am
Tai Chi Class: Wednesdays @ 9:00-10:00am
2022 Session Dates:
January 4 thru March 17, 2022
April 5 thru June 16, 2022
July 5 thru September 15, 2022
October 4 thru December 15, 2022