Seniors in Motion & Tai Chi
Seniors in Motion
Be a part of an exercise program that targets more than your physical well-being. The Seniors In Motion (SIM) program is more than an exercise class – it focuses on the spiritual, social, physical and educational needs of mature members of the La Crosse community. Seniors in Motion is a ministry, developed and offered by the First Pres,  that helps mature individuals remain more active and independent. The Seniors In Motion project assists seniors with movement challenges associated with aging thereby allowing them to retain their function and remain in their homes as long as possible.
We offer 3 levels of classes each designed meet a different level of physical ability. Classes are offered in 11-week sessions.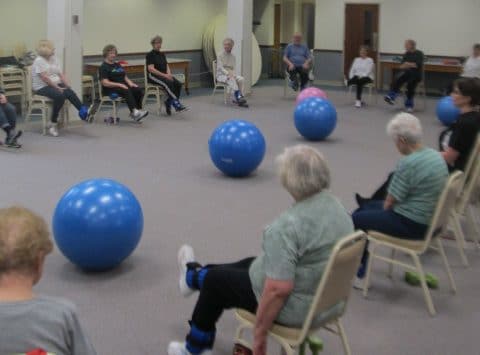 Tai Chi
Come improve your balance, reduce your fall risk, increase mindfulness and relaxation, and improve your strength. This class accommodates those that need extra support while standing and can be practiced while seated. The movements have been modified to make them easier to learn but still retain the many benefits of the traditional Tai Chi form.  The class meets once a week on Thursday afternoons.