COVID-19 Update (3/18/20): We are continuing with these trips as planned, but we will not expect further payments until things have cleared up.
There are certain experiences of our youth that shape how we view and treat the world around us as adults. When rooted in Jesus Christ, such experiences can result in vibrant, maturing, and enduring faith. That is why First Presbyterian Church invests generously in our summer mission trips for grades. 6-12. Past summer trip participants have been from a variety of church/religious backgrounds and financial situations. We strive to make these trips possible for all students.
Surf City City 2020
July 19-24, 2020
Trip Open to Grades 5-8 (2019-20 school-year)
Throughout the summer months, students are often too bored and/or too busy to reflect on their lives, friendships, and faith in Jesus Christ. Surf City is the ultimate bonding trip for students. As they do fun activities with each and stay in cabins with one another, students build strong friendships. Meanwhile, students also get to know our church's youth ministry leaders, as well as the Good News about Jesus Christ.
Registration Open: January 29 - February 12, 2020
Trip Cost: $525-575 (price depends on # that register)
Team Departs: SUN, July 19 at 6:30AM from First Pres
Team Returns: FRI, July 24 at approx. 10-11PM to First Pres
Adult Leaders: Dir. Alex Jerve, Michael Phlegar & 2 TBD female leaders
Possible Recreational Opportunities: Horseback riding, swimming, tubing, archery, laser tag, relay race, scavenger hunts, climbing wall, zip-line, kayaking/canoeing/paddle-boarding, campfire & s'mores, Battle Barge, etc.
Faith-Building Opportunities: High-energy worship, youth-friendly preaching & Bible Studies, the "20 minutes of silence" (prayer, meditation, etc.)
High School Mission Trips 2020
High School mission trips are open to students in grades 9-12 for the 2019-20 school-year. Registration for both high school mission trips occurred January 8-22. Any registrations after January 22 are not guaranteed a spot on the mission trip. A deposit is required to save a student's spot. We recommend $100/student but are willing to be flexible with the amount if that presents a challenge for the family.
Caribbean Mission Trip - June 19-27, 2020
It's a BIG world out there! And what many western teens don't understand is that much of the world lives very differently than they do. Even so, Jesus is active and present in blessing people all over the world. Students in grades 9-12 are invited to travel out of the country---and their comfort zones---to serve people in the Caribbean. Our primary destination is Haiti but we are preparing two back-up options in case of another last-minute change-of-plans.
Registration Open: January 8-22, 2020
Primary Mission Site: Camp Mahanaim,

Les Cayes, Haiti
Back-up Mission Site: Doulos Discovery School,

Jarabacoa, Dominican Republic
Trip Cost: $1,800/student
Team Departs: FRI, June 19 at 4:00PM from First Pres
Team Returns: SAT, June 27 at approx. 10-11PM to First Pres
Adult Leaders: Pastor Taylor Haley & Cami Haley
Possible Service Opportunities: Greet & Assist with a Children's Sunday School, plan & lead activities for a youth sports camp, camp maintenance projects, plan & lead a Vacation Bible School for children in a rural community 
Possible Recreational Opportunities: Beach Day, Swimming in a Tropical Lagoon, Visit Local Market, View & Purchase artwork from Haitian artists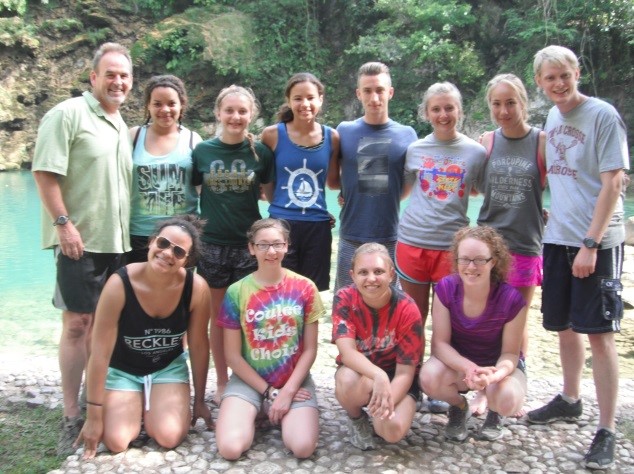 West Virginia Mission Trip - June 19-26, 2020
Much of what people in the Midwest know about West Virginia comes from John Denver's iconic song "Country Roads," which opens with the line, "Almost heaven, West Virginia." As beautiful and scenic as this Appalachian state is---which we will encounter through whitewater rafting and hiking--- there is a vast-yet-hidden population battling poverty, drug abuse, and discouragement for the future. Even so, there is a deep sense of camaraderie and loyalty among the rural West Virginia towns, and many ministries and community leaders have stepped up to lend a helping hand to those who are struggling. Students currently in grades 9-12 are invited to join us as we head out east to serve these organizations and discover the breath-taking beauty that inspired John Denver's song.
Registration Open: January 8-22, 2020
Trip Cost: $575/student
Team Departs: FRI, June 19 at 5:30AM from First Pres
Team Returns: FRI, June 26 at approx. 10-11PM to First Pres
Adult Leaders: Dir. Alex Jerve & TBD Female Leader
Possible Service Opportunities: Home repairs for locals, public works projects (e.g. schools, parks, etc.), assisting with youth & children's summer programs, misc. tasks for local ministries and non-profits
Recreational Opportunities: Whitewater rafting (with professional guides), hiking, swimming, and cookout)