Engage
Parenting is a big challenge and you are invited to jump into the discussion with a group for parents that meets on Wednesday evenings at 5:30pm in the Conference Room on the lower level of the church. The discussion group seeks to encourage and support one another as they juggle their busy lives and raise their children.
3MF
In this age of digital connections, personal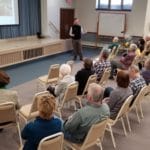 connections are important! You are invited to enjoy connecting with others for learning and social opportunities at 3MF! 3MF (Ministry for Mature Members and Friends) is a program series hosted by First Pres. 3MF's mission statement is: "To meet the spiritual, social, physical and educational needs of our mature members and friends."
Programs generally will be held on the second Tuesday of the month, beginning at 10:30 a.m. from September through May. Programs held at First Presbyterian are free and we welcome the community.
Coffee and light refreshments are offered. The group may choose to go for lunch together after the program or order out for lunch.  For more information, please call the church office at 784-4248.
Men's Morning Bible Study
If you are an early riser – then this study is the study for you. The men gather at 6:00am on alternating Wednesday mornings to explore Scripture and apply it to current issues.
Sacred Rhythms
A group for women who meet monthly to support one another as they explore the practices of faithfulness.   The group reads and discusses books that aid in this exploration. You're invited to study with them on the 3rd Sunday of each month from 4:30pm – 6:00pm in the Gathering Area.
Summer Women's Bible Study
Does your routine shift over the summer months – maybe allowing more time for study? A group of women have found the summer to be a great time to dive into Bible study and have been using video series from authors like Beth Moore. Join us beginning in June for this summer's study. Dates and times to be announced.