If you visit First Pres on a Sunday morning you'll find lots of energy - choir practices, learning, worship and, of course, food being served at Coffee Hour!
Five generations gather as a faith community to be nurtured and transformed thought worship together on Sunday mornings. The music reflects this generational diversity - from well-worn hymns to contemporary songs...from soaring choral music to moving instrumental pieces to engaging children's songs - all find a place in worship.
Prayers are offered as an expression of our deepest desire and need.
Moments of quiet open the opportunity for God to speak.
The proclamation of God's Word he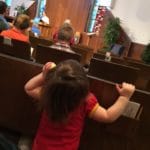 lp invite God's transforming work into everyday lives. Everyone is able to find themselves in worship, even if the rows are a little high for some to see over.
Together we belong in worship.
More than just Sunday morning is an invitation to you to join in the work of this church.
From hosting seniors' exercise classes that foster strong relational bonds to the mad-cap antics of middler-schoolers, there is a lot of energy in and around our campus Monday through Saturday.
Ministry happens offsite as well, as members drive for Mobile Meals, serve free community dinners at Come for Supper or bring supper to the La Crosse Warming Center for the homeless in our community.
From service projects to soup lunches that nourish more than the body, from transformative book studies to picnics out in God's creation, our events are open to all!